Adresse: Brömsehus Brömsehus

Brömsehus was the Danish border stronghold during 1300 - and 1400s. Valdemar Atterdag built it to have a place where he could watch the important sailing route in the Baltic Sea.
Brömsehus was a stronghold of the Danish-Swedish border Brömsebäck stream. It is located in Kristianopels parish in the current municipality of Karlskrona in Blekinge. The fortress was situated higher than the rest of the terrain and surrounded by stockade and moat. There has been no archaeological excavations at the site which currently consists of a ruined hill. Nearby are beautiful biking and hiking trails.

Maps and stage descriptions are available at the tourist office in Bergkvara. It is also possible to order material via email at turistbyran@torsas.se. Printable stage descriptions from our bike and hiking trails can be found below.
Show more
Über diese Aktivität
Adresse

Externe Links

Länk 1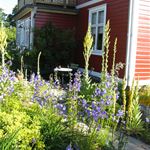 Bed & Breakfast
Entfernung: 11,2 km
Solbackens B&B is located in a rural atmopsphere in the small village of Torsås, about 10 mins walk from the village center and bus station.
Hotels and guesthouses
Entfernung: 16,9 km
Familie Johansson kümmert sich persönlich um ihre Gäste. Herrliche Naturumgebung mit abwechslungsreicher Vegetation und heimischen Tierarten. Historisches Ambiente mit bestem Komfort.