Adresse: Skärgöl 102 Torsås

In Weine Arvidsson's garden in Skärgöl grows hundreds of flowers.
"Ordinary" flowers such as roses and geraniums but also flowers of the more exotic kind intermingled in the beautiful garden next to the lake Iglasjön. In about 10 years, Weine devoted himself passionately to their floral interest; especially have a variety, the Fuschia flower, become his favorite over the years.
Show more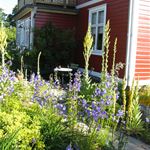 Bed & Breakfast
Entfernung: 12 km
Solbackens B&B is located in a rural atmopsphere in the small village of Torsås, about 10 mins walk from the village center and bus station.
Hotels and guesthouses
Entfernung: 22,3 km
Familie Johansson kümmert sich persönlich um ihre Gäste. Herrliche Naturumgebung mit abwechslungsreicher Vegetation und heimischen Tierarten. Historisches Ambiente mit bestem Komfort.