Here is more information about fishing in Torsås Muinicipality
It is allowed to fish in the ocean for private use. But It is prohibited to use fishing net and such when fishing. You can fish without a fishing card. A new rule was stated 2010 which says that you are only allowed to fish 3 pikes a day (per person) in the Baltic Sea, and you can only keep the spikes that are in between the centimeters of 40-75.
It is prohibited in the municipality of Torsås to fish in the lakes and in the streams, since it is private property. More fishing rules can be found at http://www.lansstyrelsen.se or at Fiskeriverket: http://www.fiskeriverket.se.
Show more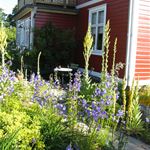 Bed & Breakfast
Entfernung: 7 km
Solbackens B&B is located in a rural atmopsphere in the small village of Torsås, about 10 mins walk from the village center and bus station.
Hotels and guesthouses
Entfernung: 8,8 km
Familie Johansson kümmert sich persönlich um ihre Gäste. Herrliche Naturumgebung mit abwechslungsreicher Vegetation und heimischen Tierarten. Historisches Ambiente mit bestem Komfort.