Adresse: Påbonäs Borg Söderåkra

Påbonäs Borg is a remaining of a castle built in the early middle age. The remaining of the castle is located in between Söderåkra and Bergkvara and it is strategically build right next to the coast, not too far from the previously border of Denmark.
This castle was build during the early fourteenth century, just when the Swedish nobility was increasing.
In the end of the fourteenth century the castle became a royal property owned by Queen Margareta.
The castle was build on a plateau which had a diameter of 100 meter. And on this plateau a house was build and in this house the Queen had a wine cellar and in this wine cellar the Queen storage her wine but also her treasures and gifts. The plateau was surrounded by a moat, no longer filled with water though.
Show more
Über diese Aktivität
Adresse

Externe Links

Stunden

Preis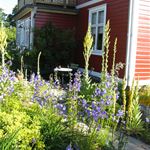 Bed & Breakfast
Entfernung: 7 km
Solbackens B&B is located in a rural atmopsphere in the small village of Torsås, about 10 mins walk from the village center and bus station.
Hotels and guesthouses
Entfernung: 5,3 km
Familie Johansson kümmert sich persönlich um ihre Gäste. Herrliche Naturumgebung mit abwechslungsreicher Vegetation und heimischen Tierarten. Historisches Ambiente mit bestem Komfort.