Adresse: Timmervägen Gullabo

An originally train station building from when the railway went between Torsås and Gullabo. The building is considered, by many, as one of the most beautiful in Sweden.
The railway was opened September 15th, 1917 but already January 1st, 1940 the passenger services between Torsås and Gullabo stopped and March the 1st, 1950 did also the freight traffic stopped. The same year was the railway between the towns demolished. The station building is today a kindergarten.
Show more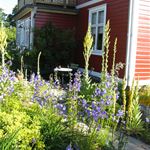 Bed & Breakfast
Entfernung: 12,3 km
Solbackens B&B is located in a rural atmopsphere in the small village of Torsås, about 10 mins walk from the village center and bus station.
Hotels and guesthouses
Entfernung: 19,8 km
Familie Johansson kümmert sich persönlich um ihre Gäste. Herrliche Naturumgebung mit abwechslungsreicher Vegetation und heimischen Tierarten. Historisches Ambiente mit bestem Komfort.