Lionsleden ("The Lions trail") Torsås-Bergkvara
Adresse: Torsås
Vis kort
Adresse: Torsås

The old roadbed between Torsås and Bergkvara was turned into a pedestrian and cycle route of Torsås Lions Club. In 2010, the trail got a facelift in the form of an improved surface. In some places the trail was widened also to improve accessibility.
The trail is about 4 km long and has multiple connections at Spånggatan and Verkstadsgatan in Torsås, and the old Faurecia and Bergkvara from Målargatan. Contact the tourist office for more information.
Show more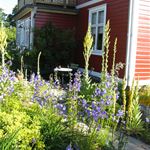 Bed & Breakfast
Afstand: 762 meter
Solbackens B&B is located in a rural atmopsphere in the small village of Torsås, about 10 mins walk from the village center and bus station.
Hotels and guesthouses
Afstand: 10,1 km
Stufvenäs Gästgifveri dates back to the 19th century. At Stufvenäs tradition meets innovation in an historical country manor setting. The Berzelius-Johansson family has run the business since 1987 with great love and care.