Bike on the old railway, Torsås-Bergkvara-Gullabo
Show map
Bike o the old railway that back in the days connected Bergkvara-Torsås-Gullabo.
The old railway embankment is today restored as a biking path and is also paved, most of the way. Some parts of the path can be overgrown, at these parts you can easily bike on the main road that goes along the railway. Along the railway you'll see the old station houses, that was used during the time the railway was in use.

The fist section, between Torsås-Bergkvara was opened in 1903 and is 5 kilometers. In May 1917 the section between Torsås-Gullabo opened, it is about 16 kilometers long. These sections makes it easy for you to chose to just bike one section or bike the whole railway. In 1966 the railway traffic was disused in Torsås Municipality.
Show more
About this activity
External links

Opening Hours
Hotels and guesthouses
Distance: 9 km
Stufvenäs Gästgifveri dates back to the 19th century. At Stufvenäs tradition meets innovation in an historical country manor setting. The Berzelius-Johansson family has run the business since 1987 with great love and care.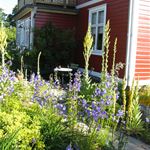 Bed & Breakfast
Distance: 5.4 km
Solbackens B&B is located in a rural atmopsphere in the small village of Torsås, about 10 mins walk from the village center and bus station.